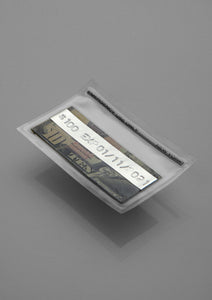 Cash-Back Gift Card $100
Emergency Use Only
Regular price $100.00 Sale
Cash-Back Gift Card   
To celebrate our first anniversary, @emergency.use.only made us some limited "cash-back" gift cards – in the amount of $100 – for the holiday season.
The value of these gift cards is twofold: a redeemable value for covering one's shopping activities at @3standardstoppage New York, plus the bonus of an immediate 'cash-back' of the very banknote sealed within the gift card. Of course, the gift card can also be torn open when unforeseeable emergency arises, such that one could fulfill crave for bubble tea at a cash-only parlor at the extravagant destruction of the gift card itself.
Edition of 10
Terms and Conditions
This Gift Card can be used for the purchase of any items at 3standardstoppage New York, in-store or online at 3ssstudios.com, including Wear, Publications, Objects, Archive-line, and SALE.
The Gift Card is single use only and can not be partially spent.
Once this Gift Card is applied to your purchase, you will receive $10 'cash-back' from 3standardstoppage store.
This Gift Card is valid until January 11, 2021 23:59 (EST)
The Gift Card should be well maintained. 3standardstoppage retains full discretion to not accept the Gift Card if damaged or opened prior to use. 
No exchange or return once this Gift Cash has been sold.
The Gift Card cannot be resold to a third party.
3standardstoppage studio is not responsible for the loss, damage, or legal issues of the Gift Card, including the processes of purchasing, shipping and receiving, for both domestic and international holders.
PRIVACY POLICY: 3standardstoppage will not disclose your information to other organizations or third parties. All personal information you provide during registration is used to: 
process your orders

contact you regarding a particular transaction 

contact you about new product, features or special promotions; If you would like to have your name removed from our mailing list, please email to: customer@3standardstoppage.com

All Rights reserved by 3standardstoppage New York , 2020